 COVID 19 ALERT : PLEASE READ
Your health and safety is very important to us. As such, we encourage all marketplace users to practice social distancing when meeting up to exchange purchased items. We are also asking item donors to thoroughly sanitize them prior to meeting up with a purchaser. Where feasible, items should be left outside for "curb-side" pick up. Donors and purchasers should wash their hands after every meet up. By following these simple steps, we can all stay healthy while raising much needed funds for our favorite charities. Thanks for your cooperation and support.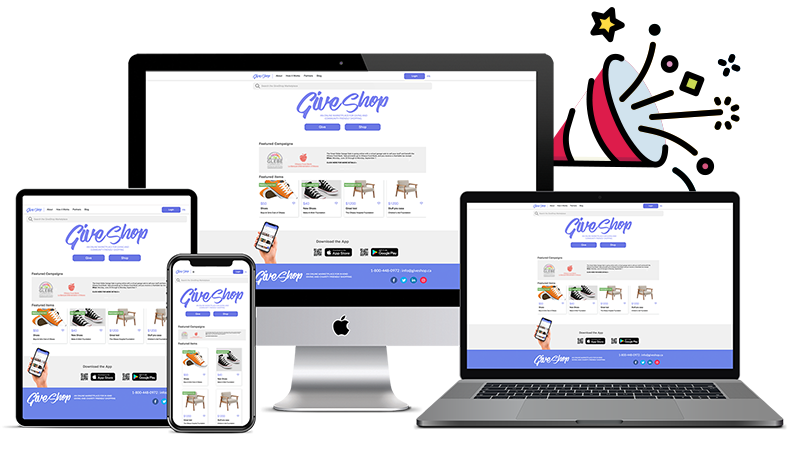 Big News!
We've heard the feedback, and we are thrilled to announce that we have now launched the desktop version of the GiveShop marketplace!
Initially users were limited to making transactions exclusively on the GiveShop mobile app. But now anyone can use any device to donate and buy gently used items in benefit of local charities and schools.
Thank you for helping us grow and improve the GiveShop platform. We're grateful for everyone who is helping us make community giving easier and more accessible to all. If you have any ideas that could help us improve GiveShop, please email us at [email protected].
DONORS
Post and sell items, with the proceeds going to a charity of your choice. You receive a charitable receipt for the purchase price.
BUYERS
Shop on the GiveShop marketplace with purchase proceeds supporting a local charity or school.
CHARITIES
Give active and new supporters alike an easy way to donate to your cause.
BUSINESSES
Easily raise funds for a charity of your choosing using the Virtual Garage Sale.
COMMUNITY GROUPS
Are you part of a club, sports league, church group or community association that supports a particular charity or good cause?  GiveShop's Virtual Garage Sale is a simple and easy way to run your next fundraiser.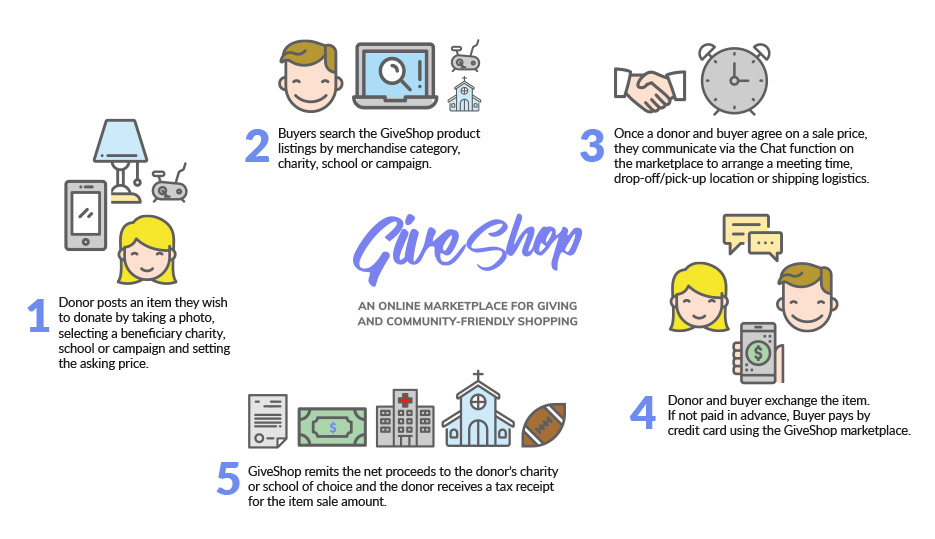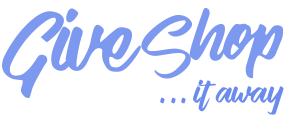 Time to clear out your basement? Why pay for storage or clog the local landfill? Donate your gently used items of value, help out your favourite charity and receive a charitable receipt.


Search for all kinds of items and filter your search by the charity you want to support. Buy that great find and feel good knowing your purchase dollars are going to charity.


All purchases are made via credit card payment using the GiveShop marketplace so no need to arrange for cumbersome payments by cash or cheque.


All messaging and offers can be made right through the GiveShop Marketplace. Organize all the items you donate, your wish list shopping favourites and your purchases on your MyGiveShop page.

DONORS = WIN
by donating gently used items with sale proceeds helping local and national charities fulfill the goals and challenges that help all of us. Donors also win by re-purposing gently used items away from landfill and earn a charitable receipt in the process.

BUYERS = WIN
by finding great deals on a variety of gently used items and directing their shopping dollars to charities that can pass on their win to so many others. Knowing that the money you spend will go to helping charities flips shopping from a me to we activity.

CHARITIES/SCHOOLS = WIN
by offering supporters of all ages a new way to donate. Canadians that want to clear the clutter at home can turn those gently used items into good deeds that charities and schools perform. Others on a tight budget can offer gently used items a new home and help out their favourite charity or school in the process.